Best Staffing Service Company in Hyderabad
In today's changing market, temporary staffing can offer flexibility and cost-saving to your company. Without proper employees, you can't reach success. Now Rational Knowledge Services, apart from other services, is also renowned for its staffing services. With our team by your side, you can attain huge success. If you are looking for top professional best staffing services in Hyderabad, then you are at the right place!. We are right behind you to take care of all your staffing and recruitment essentials. You get all the help you need to source candidates from both active and passive candidate pools.
Our blueprint for choosing the right resource established customized algorithms that follow a patterned process of examining candidates, verifying their skill sets, and assessing how they match your company's technical requirements and culture. From temporary staffing to permanent staffing, we wrap up and offer all types of custom-tailored and cost-effective staffing solutions for your firm. Currently, we offer workforce staffing solutions that include both Permanent/C2H staffing and Contract staffing.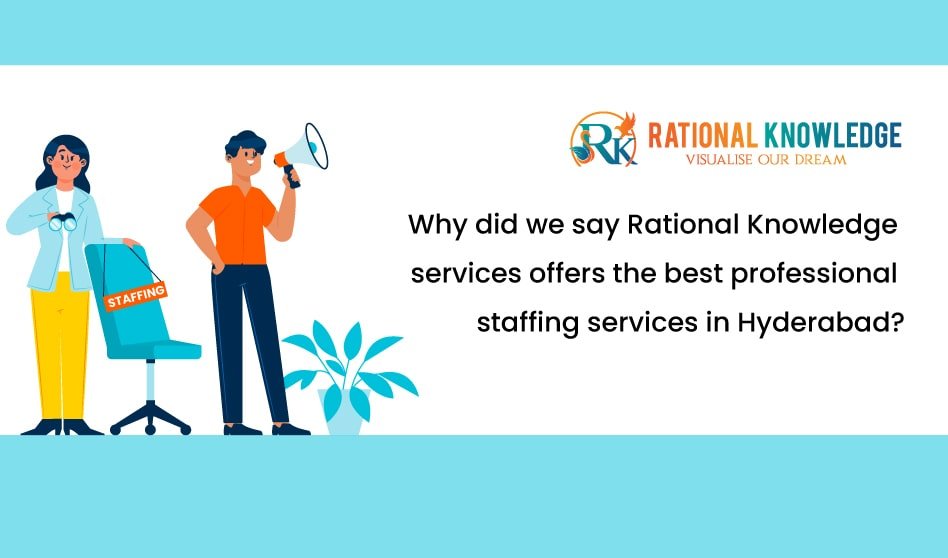 Permanent staffing:
Hiring employees into your organization is a complicated responsibility. So before you make this decision be conscious of selecting the right organization like us. We are the ones who give best staffing services in Hyderabad for your organization. For us, permanent staffing, often referred to as lifetime employment, is the procedure of furnishing required candidates for long-term dedicated employment based on specified candidate factors. We accumulate the best-fit candidates based on their experience, skill set, culture to ensure the complete solution provider. We take charge of your organization's growth.
Contract Staffing:
Rational Knowledge Services is a contract staffing agency that offers temporary staffing services for IT companies and businesses. We are leading temporary staffing agencies providing efficient employees who can perform the required job role. Contractual staffing includes part-time work, seasonal work, etc., on a short-term basis. We also offer contract staffing services where the organization can hire individuals on temporary terms. In simple words, the headcount in the company opting for contract staffing reduces substantially while not affecting the output produced at the end of the day.
Our permanent staffing agency strives to match your needs by providing quality candidates for your project, which we identify through our tried-and-tested processes. Let's record a new success in your field by using our best staffing services in Hyderabad.
We Rational Knowledge Services provide the best staffing services in Hyderabad. We provide staffing services in both permanent and contract staffing. To know more about our staffing services, you can contact us using the below details.
For Contact:
WhatsApp: +91 9959995511
Email ID: info@rationalknowledgeservices.com